Eric Rodriguez; What's Next?
We sat with Reading PA's top barber to discuss what's next? For Eric Rodriguez…
Proud business owner of Mike and Joes barber salon in reading Pennsylvania. but this isn't his greatest accomplishment. he is husband, a father and his greatest joy, a grandfather. Family is what he owes all his success to. You see, my family taught me hard work is what gets you far but it is the dream that fuels that drive in you to start, said Eric. My parents showed me that working for all that I wanted wasn't ever gonna be easy but worth all the sweat poured into the many hours you put in and that has gotten me to where my story begins…
I never knew what I was destined to become, of course nobody does but I worked a few jobs all of them teaching one valuable lesson… That I wasn't meant for factory work. Yet I kept working because it's all I ever knew it was instilled and ran through my veins, I guess you can say, said Eric. Until that one day where my cousin had to leave for the marines is when he picked me up took me to Walmart. bought a set of clippers and said "buzz me down and fade the sides" I hadn't a clue at first but thought how hard can this actually be? So… I cut it and from my standpoint it was pretty clean so when I was finished my cousin had mentioned to me to hold on to the clippers until he returned from tour. Of course I thought every cut would be number 1's and fades but quickly learned there was a big world of haircuts beyond that.
So I watched and learned from my brother, barber Willy Garcia, and the great Charlie Hayne, to the point where I felt I was ready to take that first step that is taken known as the "basement barber." my shop was my parents basement and it only took a few cuts and word of mouth to spread that I was cutting hair and I was cheaper than the cities barbershops. looking back at it all now, I was kinda messed up but I knew this was a place that they all once stood so it was a ritual we all have to do to be in a barbershop. Then my world turned when I met her, my wife Johanna, who opened my eyes to a bigger clientele. so I would still work in the basement but when I went to visit her in oakbrook I was the guy, I was the man I was the barber who cut hair in the hood.
So that's who I was and I was proud of it because I was doing what I was surely falling in love with. despite cutting outside in 95 degree weather in the summer, under a beach umbrella that barely blocked out the sun. I knew from that point what my father said that "if you're not sweating then it's not work" said Eric.
I was working and cutting hair to support my little family and then a surprise came, I was gonna be a father. Within those 9 months I knew it was time to hustle as far as cutting hair and knew in order to make ends meet that I'd have to take on a full time job and so I did, said Eric. Where he made more connections with potential clients to sit in his chair and then 9 months passed and my family grew by one, it just seemed like just one but it was another mouth to feed so I knew that all I was ever gonna do in my life was always going to be for my children. They say that doors open and close for a reason, sometimes to keep us from doing what we are destined to do. when it's closed and allowing us to be everything God intended us to be when it's open, so I opened the door to be the best for my family.
Then opportunity came knocking in the form of a friend coming to me and saying hey there's a barbershop looking for a barber I already plugged you in all you gotta do is check it out so…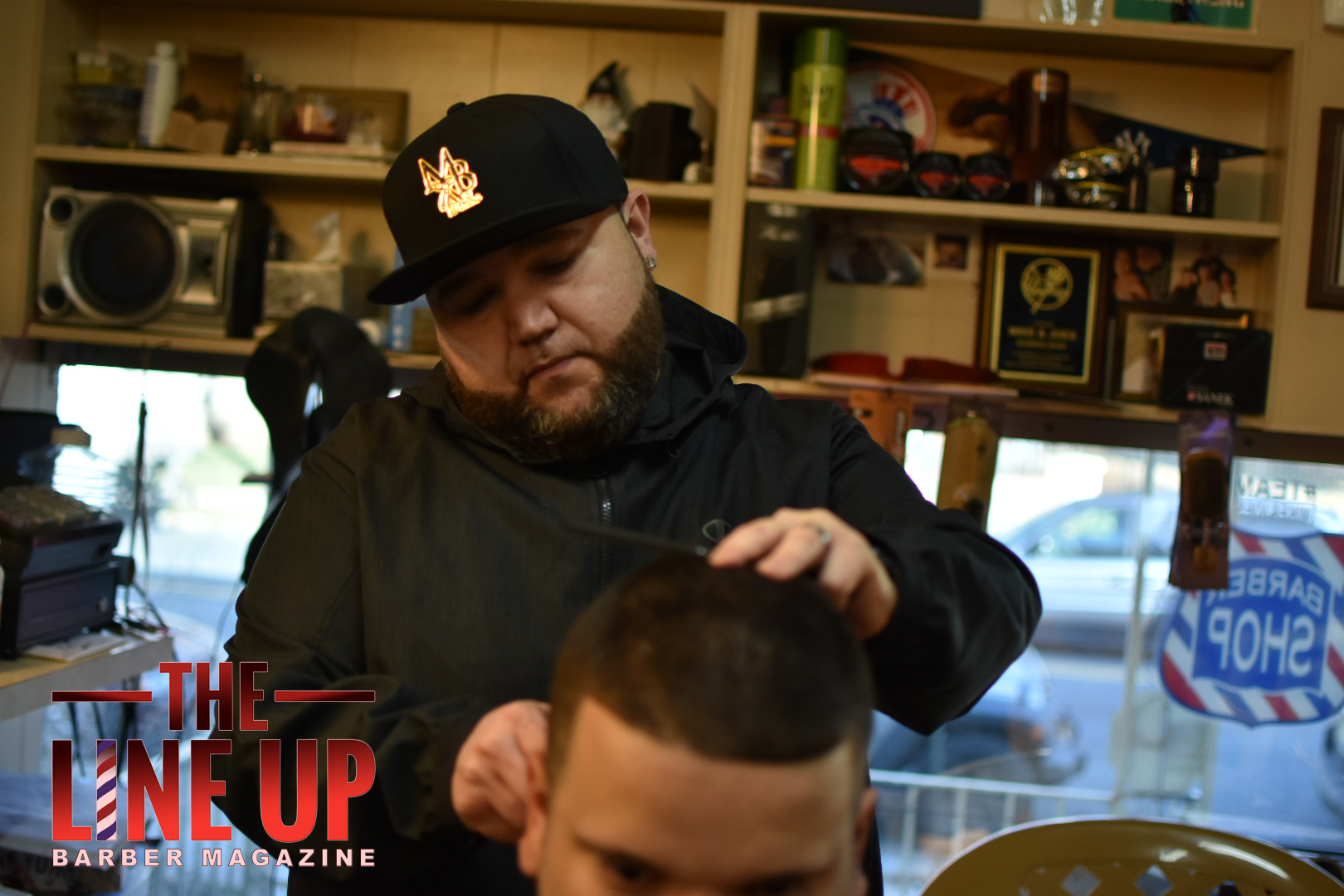 And so I walked in and truth be told it was an older white clientele. I observed everything and said to myself, "I can't work here, there is no way these guys would even let me touch their hair.." So I got a cut from a young guy named Thad, who in the future became my brother for life. but getting back to my story, I sat in his chair and got a haircut and walked out to never set foot in that place again. My friend came back to me and said that I never showed up in which I said, I did. I explained why I wouldn't work there but my friend vouched for Thad and said he was a good dude and would make sure I would be taken care of. So I went back and finally introduced myself to Thad where he immediately recognized me and we chatted and I felt comfortable and we went to work.
I worked at Mike and joes with Thad and the original owner, Michael screpsi. I learned the ins and outs of the business. I was and still am truly thankful for the time I shared with both of them during my early stages of the evolution of me. A few years went by and Thad presented an opportunity of a life time to become part owner of Mike and joes. I was taken back at the time because my wife and I had started a tanning salon that was doing pretty well on its own but we both knew that cutting hair was our bread and butter and a sure bet on giving us the life we truly deserved.
So we bought in and I put my blood sweat and tears into Mike and Joe's. Mike had fell ill and had to retire so I was left to run the shop on my own, so… I hired a barber and it lasted a few years and I found myself alone. long days turned into longer nights at the shop, busting my ass until everyone got a haircut, Eric said. It was important that they left happy even if it meant that my feet and back hurt or that my arm was ready to fall off, it just didn't matter, the customer meant the world to the shop and to my family, without them my bills weren't paid and knew they had to be. When they say God makes no mistakes, he absolutely never does. at a wedding is where my friend Joel Ramos waltzed in..
It was his family's wedding where we chopped it up. he had been cutting hair in Lancaster, pa for a few years now and we talked shop and I mentioned that I was looking for someone, not to work for me but to work with me, and he was intrigued to the point where he said I'd love to come to cut hair with my friends and family but it's a lot to think about, to give him some time. 2 weeks later after working myself crazy I got a call from Joel saying, "be there in 2 weeks, lets get to work." 9 years later we are still rocking and rolling and we took Mike and joes to a whole other level, to where we are now. a four man team, the four horsemen, if you will, of barbering. Adding Gil Nazario and Will Lebron. a team is only as good as its leader and I knew I had to be on my game. I never faded away. I never shied away, I adapted and get better stronger as a barber. We accomplished so much at Mike and joes that the skies the limit. from charity events and giving back to our community and it is only up from this point on.
So where did this all take me?, Eric asked, to a place called the Berks county barber battle and kick jam where I partnered up with a great friend dj Jr, and we made magic our first year and really stamped our name within the community, so we knew we had to do it again and Berks barber battle and kick jam 2 came into fold where it grew by four. So many vendors, so many barbers competed in various competitions with spectators being the true winners, seeing these artist perform. I found myself turning around and seeing the sea of people, hearing great thing.. E this is dope, E great job, in the midst of hearing all the great things I was hearing… in the back of mind, all I was asking to myself was… What's next?